NSWBA
7th July to 25th August 2022
Sponsored by
NSWBA are returning up to half of your entry fee to your NSW affiliated Home Club.
People
| | |
| --- | --- |
| Organiser: | Alan Bustany |
| Phone: | 0411 264 305 |
| Email: | Alan.Bustany@gmail.com |
| Chief Tournament Director: | Alan Bustany |
Links
For players who are new to MyABF, please refer to the resources kit:  
GENERAL INFORMATION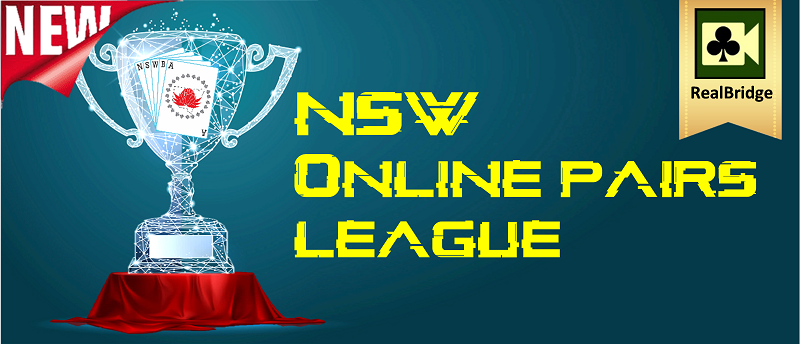 The NSW Online Pairs League is open to all bridge players, with separate divisions for players at every level. Each division is 8 NS pairs playing 8 EW pairs in a Round Robin over an eight-week season.
One 12-board match starting at 7:30pm each Thursday — typically finishing before 9pm 😃

Pairs for which both players have less than 35 masterpoints will be grouped together, as will pairs with both players less than 100 masterpoints. New players have nothing to fear! Higher ranked pairs will automatically slot into a Division appropriate to their rank.
You may have a sub play for you in up to three matches if you have other commitments.
$30/player entry fee for the whole season with up to half of this fee going to your Home Club.

Location - RealBridge (online)
Additional Information
RealBridge is an online platform with built-in video and audio. Please familiarise yourself with the following guidelines and test your microphone & camera setting:
PROGRAM
Event
Entry Fee
Day
Time
Total Entries
Action

Pairs

60 credits

Thursday
07-07-2022 - 7:30pm

30

Enter
View Entries

Thursday
14-07-2022 - 7:30pm
Thursday
21-07-2022 - 7:30pm
Thursday
28-07-2022 - 7:30pm
Thursday
04-08-2022 - 7:30pm
Thursday
11-08-2022 - 7:30pm
Thursday
18-08-2022 - 7:30pm
Thursday
25-08-2022 - 7:30pm
We accept online credit card payment and MyABF Bridge Credits, please indicate your preferred payment method in your entry.

For NSWBA or Sydney Bridge Centre members, you are also welcome to choose "Club PP" as payment method if you have a Pre-pay (PP account) with us. Payment will be taken on the day. Please make sure you have sufficient funds in your PP account.