Bridge Federation Of The ACT
29th September to 2nd October 2023
Sponsored by
Enjoy convenient accommodation at Forrest Hotel and Apartments. Discount for Canberra in Bloom participants. Call 02 6203 4300 for direct booking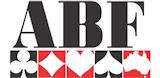 People
| | |
| --- | --- |
| Organiser: | Cathy Nichols and Roger Brake |
| Phone: | Cathy (0448 778 863) Roger (0466 009 426) |
| Email: | cib@abf.com.au |
| Chief Tournament Director: | Ronnie Ng |
Links
Make sure to visit Floriade while in Canberra Floriade website

Discounted accommodation at Forrest Hotel and Apartments. Phone 02 6203 4300 to book direct for discounted rates.  - Forrest Hotel website
How to browse, enter and pay for congress entry watch here
General introduction to myABF watch here
Any problems using myABF - contact Roger Brake via email:  myABF@bfact.com.au or 0466 009 426
Results - see here
Regulations - see here
GENERAL INFORMATION
Held in conjunction with Australia's largest floral festival, Floriade, Canberra in Bloom is a national, gold points congress for players of all abilities. Pairs and teams events are held in novice, restricted and open categories, with a new pairs event catering for players with less than 5 masterpoints.
The mixed teams event has PQPs with qualifying sessions on Saturday and Sunday morning,, and semi-finals and finals held over Sunday afternoon and Monday. Note that players that do not qualify for the finals can enter another event on the Sunday.
Early bird prices for all events are available until 31 August.
Restricted: Under 300 Masterpoints
Novice: Under 100 Masterpoints
Entries close 22 September (late entries may be accepted at Convenors' discretion). Contact convener for consideration.
Rookie (new this year): Under 5 Masterpoints
Prizes for winning competitors (subject to minimum number of entrants)
Location - Canberra Bridge Club
Transport
Ample free parking at the venue or neaby Hannah Place.
Catering
Morning and afternoon tea provided and light refreshments and drinks at the conclusion of the event. Lunch available from nearby cafes.
PROGRAM
Event
Entry Fee
Day
Time
Total Entries
Action

Royal Bluebell Open MP Swiss Pairs

130 credits

Friday
29-09-2023 - 10am & 2:15pm

38

Entries closed on Friday 22 Sep 2023View Entries


Spider Orchid Restricted MP Swiss Pairs

130 credits

Friday
29-09-2023 - 10am & 2:15pm

12

Entries closed on Friday 22 Sep 2023View Entries


Spider Orchid Novice MP Swiss Pairs

130 credits

Friday
29-09-2023 - 10am & 2:15pm

20

Entries closed on Friday 22 Sep 2023View Entries


Butterfly Orchid Rookie (Less than 5 Masterpoints) Pairs, with an introductory talk

60 credits

Friday
29-09-2023 - 1:30pm

8

Entries closed on Friday 22 Sep 2023View Entries


Golden Wattle Open Teams

380 credits

Saturday
30-09-2023 - 10am & 2pm

18

Entries closed on Friday 22 Sep 2023View Entries

Sunday
01-10-2023 - 10am

Val and John Brockwell Mixed Teams

380 credits

Saturday
30-09-2023 - 10am & 2pm

12

Entries closed on Friday 22 Sep 2023View Entries

Sunday
01-10-2023 - 10am & 2pm
Monday
02-10-2023 - 9:30am

Canberra Bells IMP Swiss Pairs

180 credits

Sunday
01-10-2023 - 2pm

24

Entries closed on Sunday 1 Oct 2023View Entries

Monday
02-10-2023 - 9:30am & 12:40pm

Federation Rose Restricted IMP Swiss Pairs

180 credits

Sunday
01-10-2023 - 2pm

16

Entries closed on Friday 22 Sep 2023View Entries

Monday
02-10-2023 - 9:30am & 12:40pm

Federation Rose Novice Pairs

180 credits

Sunday
01-10-2023 - 2pm

12

Entries closed on Friday 22 Sep 2023View Entries

Monday
02-10-2023 - 9:30am & 12:40pm
Photo gallery
Panorama of main room - Friday

Open Team Winners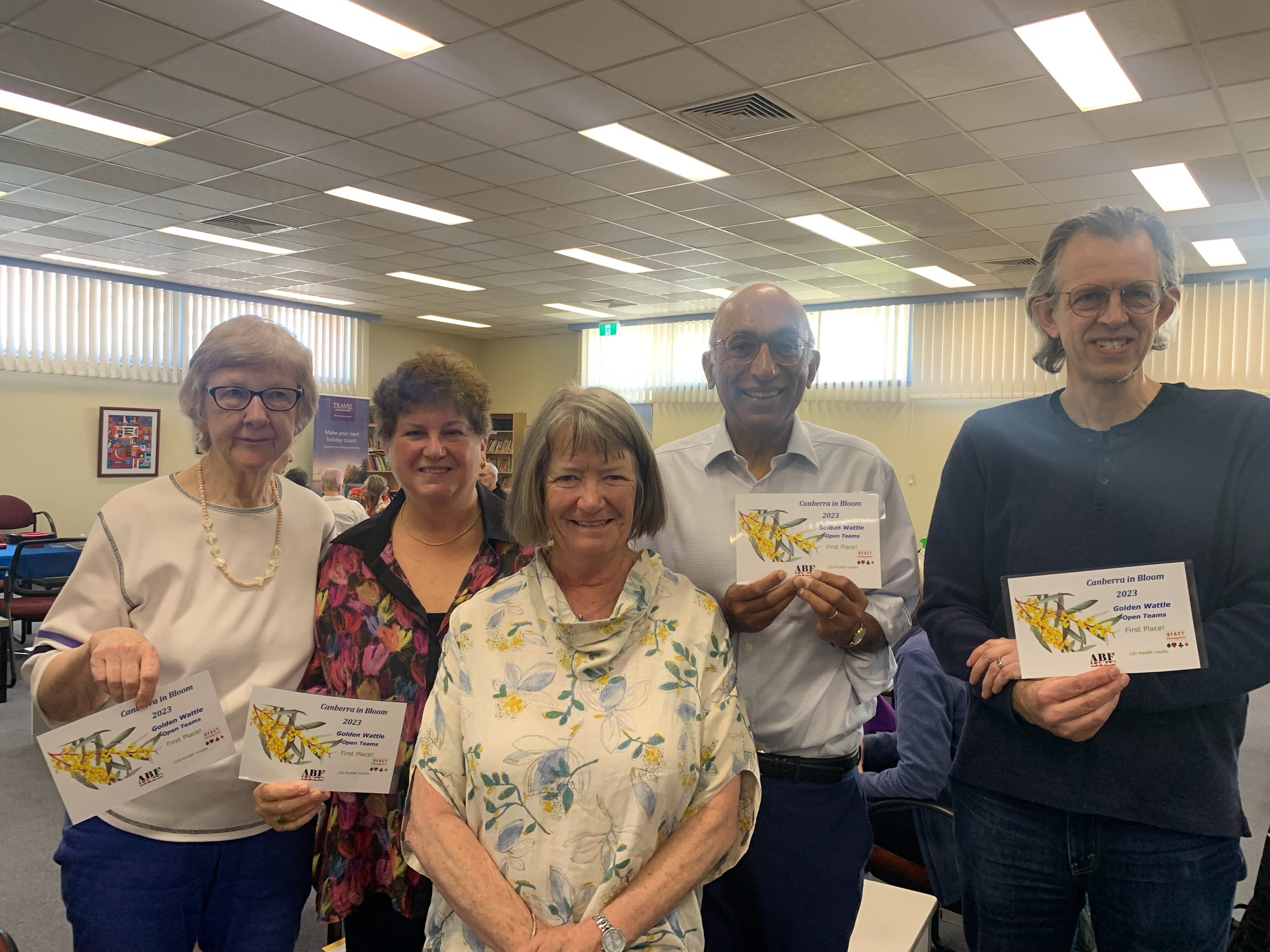 Val and John Brockwell Mixed Teams Winners