BAWA - Gold Point Events
16th to 17th September 2023
Sponsored by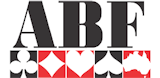 People
Organiser:

Sandra Hardie

Phone:


0434 211 657



Email:


sandrambc@iinet.net.au



Chief Tournament Director:

Neville Walker 

0418 944 077
GENERAL INFORMATION
The Hans G. Rosendorff Memorial Congress comprises two GOLD POINT events:
 

Mixed Swiss Pairs with PQP:

(1st 20, 2nd 14, 3rd 10, 4th 6, 5th 4 and 6th 2)
Restricted Swiss Pairs: 
Open to players with less than 300 Masterpoints as of 31 March 2023.
The highest placed WA Restricted Pair will be awarded the non monetary prize as winners of the WA State Championship Event for Restricted Pairs

Generous Prizes  Sponsored by TBIB - Tony Bemrose Insurance Brokers.
Travel Insurance preferential services are available to not only ABF Members, but also to their family and friends.

PRIZES - Will be paid by EFT within 5 working days
BAWA will seek to use a portion of the  net revenue raised to provide financial support for events and/or programs for less experienced and youth players.

Location - Melville Bridge Club
Transport
There is plenty of parking onsite. The venue is accessible by bus along Canning Highway.
Catering
Tea, and coffee available all day.
Lunches won't be available to purchase at the venue, however, there are lunch options within walking distance.
Stay and celebrate with the WINNERS and enjoy light refreshments on Sunday.
Additional Information
No food or drinks other than water are allowed in the playing rooms. If you want to drink tea or coffee while you play, bring along a spill proof cup with a screw lid. 
PROGRAM
Event
Entry Fee
Day
Time
Total Entries
Action

HGR Memorial Mixed Pairs

180 credits

Saturday
16-09-2023 - 10am

33

Entries closed on Thursday 14 Sep 2023View Entries

Sunday
17-09-2023 - 10am

HGR Memorial Restricted Swiss Pairs

180 credits

Saturday
16-09-2023 - 10am

11

Entries closed on Thursday 14 Sep 2023View Entries

Sunday
17-09-2023 - 10am