NSWBA - Spring Nats
18th to 25th October 2023
Latest News
The ABF Foundation is hosting a FREE bridge seminar during lunch break
of the Dick Cummings Pairs on Saturday October 21st.
Bring your lunch and come along and listen to expert bridge player, Sartaj Hans.
If you have a hand from the morning's play you are also welcome to ask questions about the best approach.
You will love Sartaj's humour and presentation style.
Sartaj has represented Australia internationally many times.
This year Sartaj was a semi-finalist in the USA's Spingold event, and he has numerous Australian titles to his name.
Please register for the free seminar on MyABF so we get a feel for numbers.
You will find the event in the program below.
People
| | |
| --- | --- |
| Organiser: | Ian Lisle |
| Phone: | 0425 255 980 |
| Email: | sn@abf.com.au |
| Chief Tournament Director: | Matthew McManus |
Links
You need to register with myABF to enter the congress.
Guidance for players as to how to register is available on the link below.
Assorted
MYABF assistance:
GENERAL INFORMATION
---


Sydney Spring Nationals to be held on October Wednesday 18th - Wednesday 25th, 2023.
The event is run by the New South Wales Bridge Association under licence from the ABF.
Please note there are event changes from the previous years
TBIB OPEN TEAMS **

BRIDGEGEAR INTERMEDIATE TEAMS
DICK CUMMINGS OPEN PAIRS

TED CHADWICK RESTRICTED PAIRS
SPRING NATIONAL NOVICE PAIRS
SPRING NATIONAL MIXED TEAMS

TWO MEN AND A TRUCK RESTRICTED, NOVICE & ROOKIE TEAMS
PENLINE SWISS PAIRS
RAINBOW SWISS PAIRS ONE DAY CONGRESS
LINDA STERN WOMEN'S TEAMS **
BOBBY EVANS SENIORS' TEAMS **
Gold Masterpoints & Playoff Qualifying Points

Starting in the 2023 Spring Nationals the Linda Stern Women's Teams will no longer be a seperate event. It will be included as a category as part of the TBIB Open Teams. The highest placed team in that category will receive the Linda Stern Women's trophy.
The Bobby Evans Seniors' Teams event will still remain and will be run in conjunction with the Spring National Mixed Teams in Week 2 of the Congress.
NB: - Entries for all teams events will close on Friday 6th October if even numbers entered. After cut-off date, entries will be accepted at organiser's discretion.
Ian Lisle

Organiser

Spring Nationals 2023
Mobile: 0425 255 980
Email: sn@abf.com.au
Location - Canterbury Park Racecourse, King Street Canterbury, NSW
Transport
DRIVING
Free parking onsite.

PUBLIC TRANSPORT
Canterbury Railway Station is about 1km from the venue. 

The 413 and 491 routes stop at the racecourse.
The 413 bus runs from Central Station, Railway Square, Stand J or Lewisham railway station.
The 491 bus runs between Hurstville Station and Ashfield Station and stops at Canterbury railway stations.
Consult transportnsw.info for details.
Catering
The venue is a "cash free" site
A free self-serve tea and coffee facility will be available in the playing area.
Lunch may be ordered, with three menu options rotating daily.  In addition, a cafeteria will be open for the purchase of pies, sausage rolls, cakes and espresso coffee. 
A bar will be open for about an hour at the conclusion of play each day.
Additional Information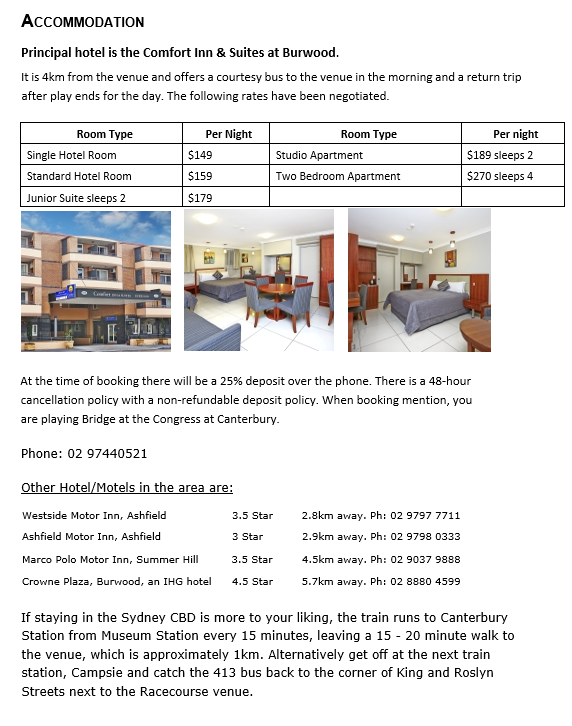 PROGRAM
Event
Entry Fee
Day
Time
Total Entries
Action

TBIB Open Teams - (Semi finals, Saturday 21st October), ( Final Sunday 22nd October)

680 credits

Wednesday
18-10-2023 - 10:30am & 2:30pm

50

Entries closed on Wednesday 11 Oct 2023View Entries

Thursday
19-10-2023 - 10:30am & 2:30pm
Friday
20-10-2023 - 10:30am & 2:30pm
Saturday
21-10-2023 - 9:30am & 2pm
Sunday
22-10-2023 - 9:30am & 2pm

Bridgegear Intermediate Teams - (Final, Friday 20th October)

480 credits

Wednesday
18-10-2023 - 10:30am & 2:30pm

15

Entries closed on Wednesday 11 Oct 2023View Entries

Thursday
19-10-2023 - 10:30am & 2:30pm
Friday
20-10-2023 - 9:30am & 2pm

Dick Cummings Open Pairs

230 credits

Saturday
21-10-2023 - 10am & 2:15pm

105

Entries closed on Friday 20 Oct 2023View Entries

Sunday
22-10-2023 - 10am & 2:15pm

Ted Chadwick Restricted Pairs

230 credits

Saturday
21-10-2023 - 10am & 2:15pm

20

Entries closed on Monday 16 Oct 2023View Entries

Sunday
22-10-2023 - 10am & 2:15pm

Spring National Novice Pairs

230 credits

Saturday
21-10-2023 - 10am & 2:15pm

22

Entries closed on Monday 16 Oct 2023View Entries

Sunday
22-10-2023 - 10am & 2:15pm

ABF Foundation Seminar

0 credits

Saturday
21-10-2023 - 1:30pm

19

Entries closed on Saturday 21 Oct 2023View Entries


Bobby Evans Seniors' Teams, Final on Wednesday 25th October

480 credits

Monday
23-10-2023 - 10:30am & 2:30pm

10

Entries closed on Wednesday 11 Oct 2023View Entries

Tuesday
24-10-2023 - 10:30am & 2:30pm
Wednesday
25-10-2023 - 9:30am & 2pm

Spring Nationals Mixed Teams, Final on Wednesday 25th October

480 credits

Monday
23-10-2023 - 10:30am & 2:30pm

22

Entries closed on Wednesday 11 Oct 2023View Entries

Tuesday
24-10-2023 - 10:30am & 2:30pm
Wednesday
25-10-2023 - 9:30am & 2pm

Penline Swiss Pairs

230 credits

Monday
23-10-2023 - 10:30am & 2:30pm

21

Entries closed on Sunday 22 Oct 2023View Entries

Tuesday
24-10-2023 - 10:30am & 2:30pm

Two Men & a Truck Restricted, Novice & Rookie Teams

480 credits

Monday
23-10-2023 - 10:30am & 2:30pm

6

Entries closed on Sunday 8 Oct 2023View Entries

Tuesday
24-10-2023 - 10:30am & 2:30pm

Rainbow Swiss Pairs Congress

80 credits

Wednesday
25-10-2023 - 10:30am & 2:30pm

27

Entries closed on Wednesday 25 Oct 2023View Entries

---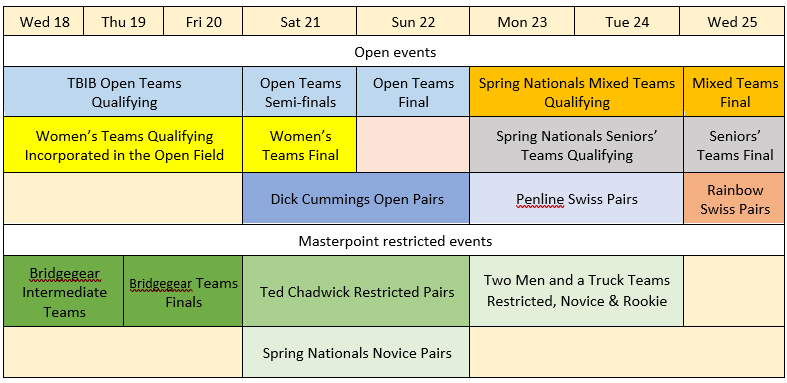 Note  1 credit = $1.    Early-bird discounts apply to teams events up to 1 October 2023 ($40 per team) 
Bank details          BSB: 082-088
                      Account:    039098420